Have you seen how much we love our air fryer lid for our Instant Pot? We try to make meals that don't call for a lot of pots and pans, but since we had both instant pots on the counter, we went ahead and used both for this.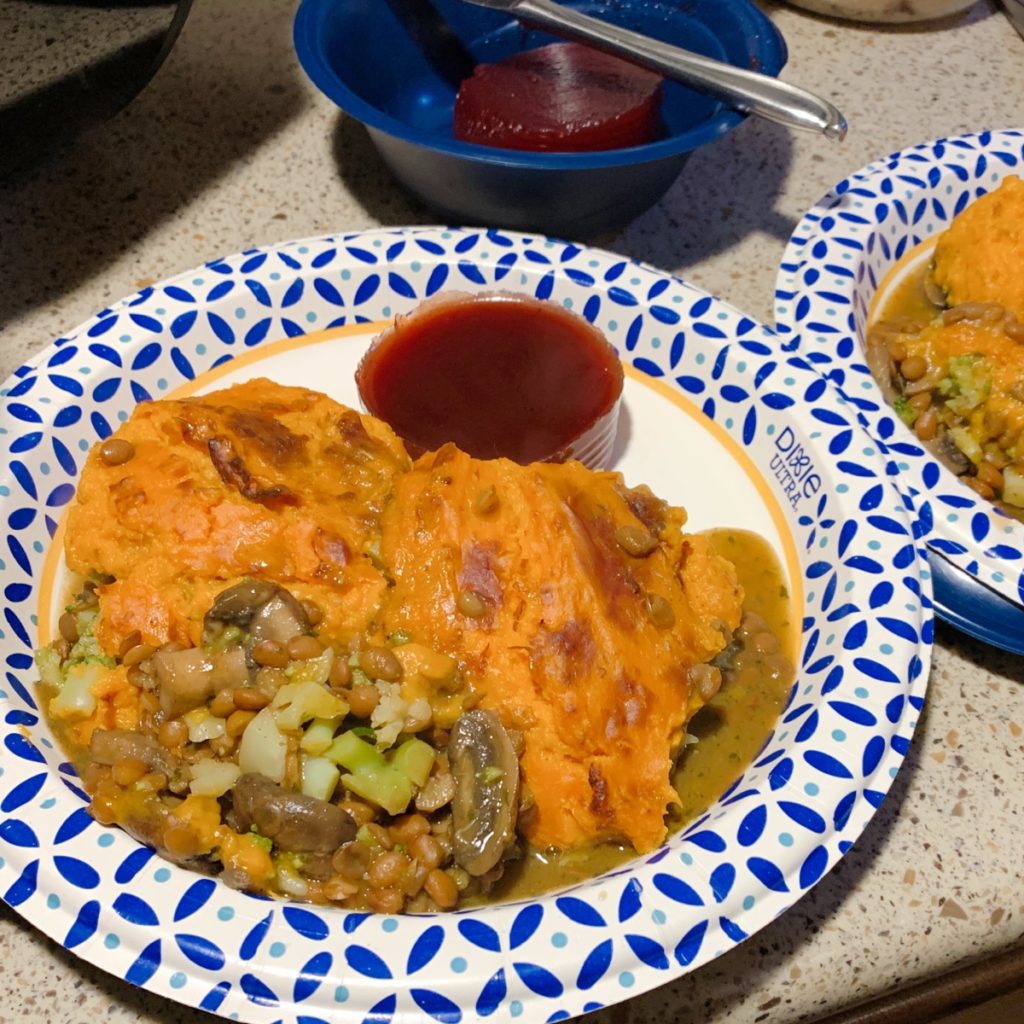 This can be done without the air fryer step, or assemble in a casserole dish and bake in the oven. Everything is cooked, it's just nice to brown the top and let the flavors rest. But without an air fryer, I would've eaten it without browning, and it would've been delicious.
Ingredients
2 large sweet potatoes, washed and cut into 1" cubes
1 clove garlic, minced
8 ounces mushrooms, sliced (or one 6-oz can)
1 tsp ground thyme
1 tsp oregano
1 tsp marjoram
1/4 tsp ground sage
One 12-oz can lentils, or 2 cups cooked green, brown, or black lentils
1 bouillon cube, or equivalent
1/2 cup water
1 1/2 cups cooked chopped broccoli (I used one 12-oz bag of frozen)
Mild tasting oil
salt and pepper, to taste
Instructions
Add oil and 1/2 cup water to sweet potatoes with a pinch of salt (to help soften the potatoes), and cook at pressure for 4 minutes. If using a second Instant Pot or stovetop skillet, move on to the next steps, or wait until the sweet potatoes are done to free up the Instant Pot. If using one Instant Pot or pressure cooker, transfer cooked potatoes into a large bowl for mashing, then start the rest of the steps in the same cooking vessel. (Potatoes will hold their heat forever, so no need to worry about them cooling off.)
To get the potatoes ready for the pie, mash them with a fork, potato masher, or mixer. I used an immersion blender to get them very smooth.
In an Instant Pot set to sauté, or a skillet on medium heat, sauté garlic in a little oil. Add mushrooms, thyme, oregano, and sage, and cook until mushrooms release their juices. Add lentils, water, and bouillon, and stir to combine and dissolve bouillon.
Smooth the mushroom and lentil mixture into a uniform layer, then layer broccoli evenly on top. Salt and pepper the broccoli layer.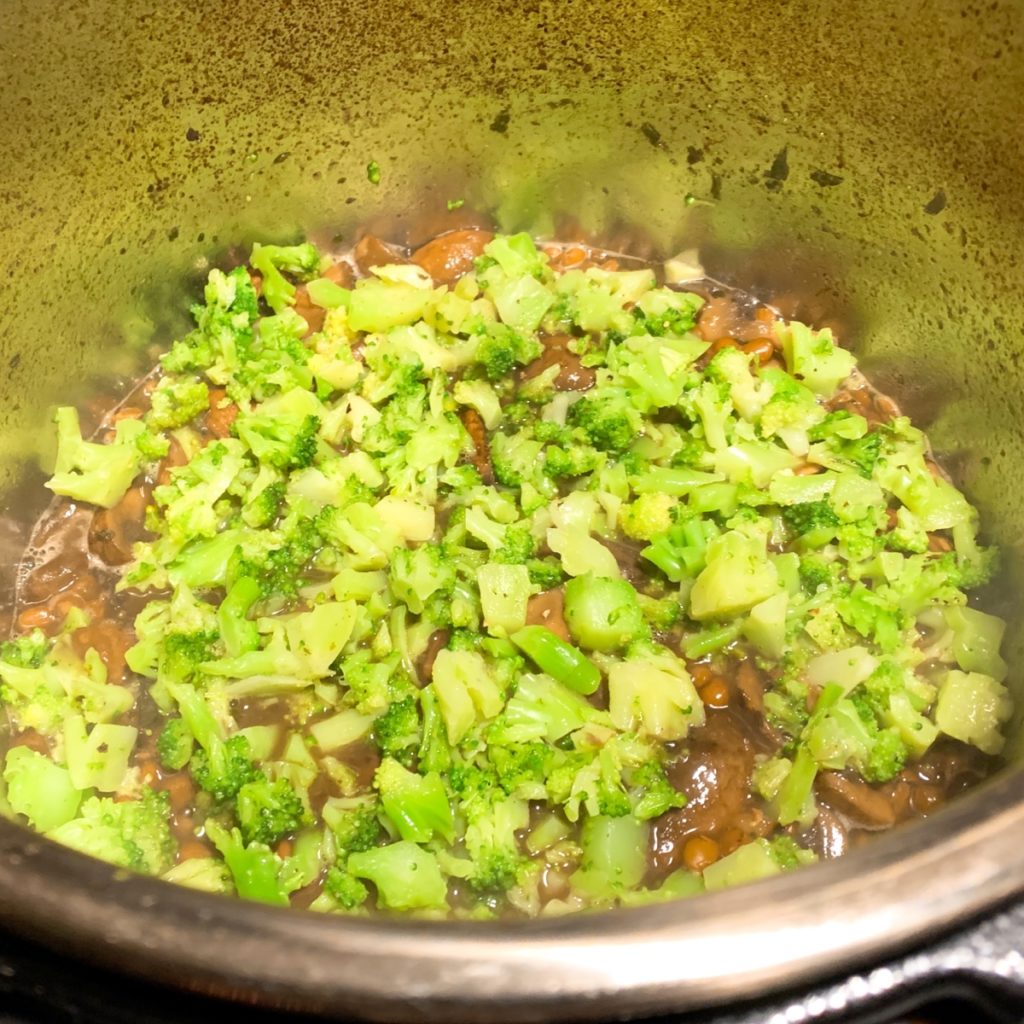 Spoon mashed sweet potatoes on top of the broccoli layer, then smooth out evenly. Sprinkle with sea salt, if desired.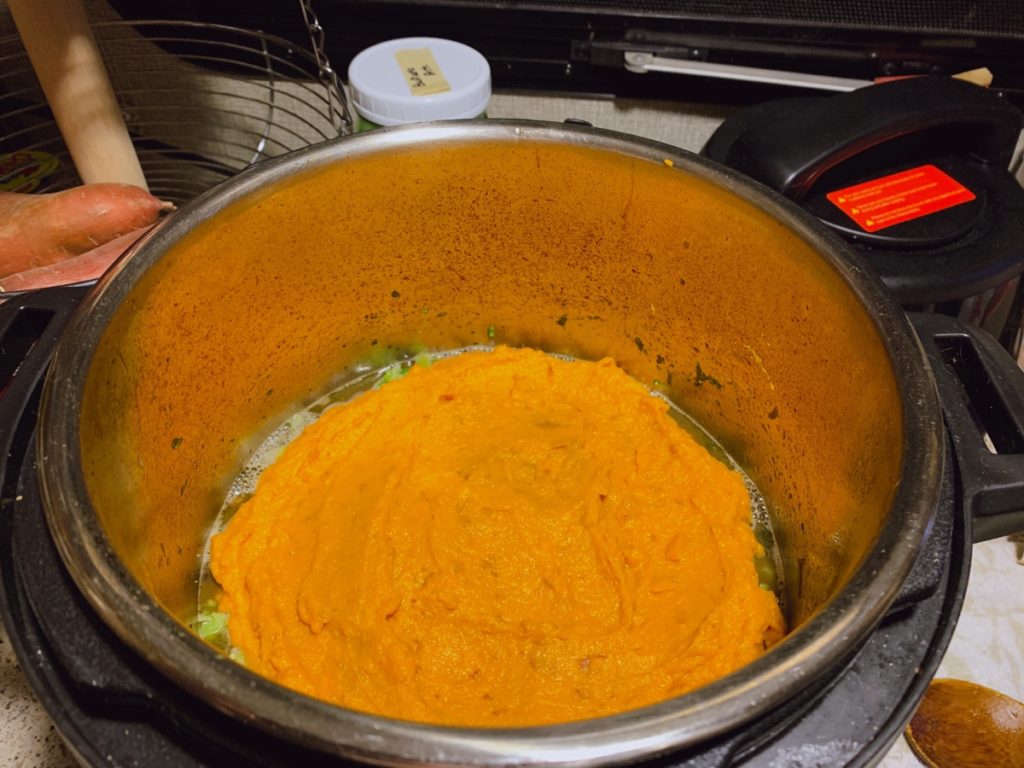 At this point, you have three options:
Add air fryer lid, and brown for 15 minutes at 370°F
Bake in oven at 375°F for 20 minutes
Skip browning, and dig in.
If you choose to brown it, it gets VERY hot, so let the casserole rest for 10 minutes or so before serving.
Notes and Suggestions
We ate ours with cranberry sauce. This is totally optional and highly recommended.
White potatoes would be great. We always have an abundance of sweet potatoes and love them.
Leave the skins on the potatoes for extra nutrition. (Or don't, and peel them before cooking!) I use an immersion blender to break the skins into tiny bits and get the potatoes extra smooth.
Use corn instead of broccoli for a more traditional pie.
Use whatever leftover veggies you have on hand for the veggie layer.
Instead of lentils and mushrooms as a base, use the equivalent of a pound or package of veggie meat crumbles of your choosing, or double the lentils and omit the mushrooms entirely.