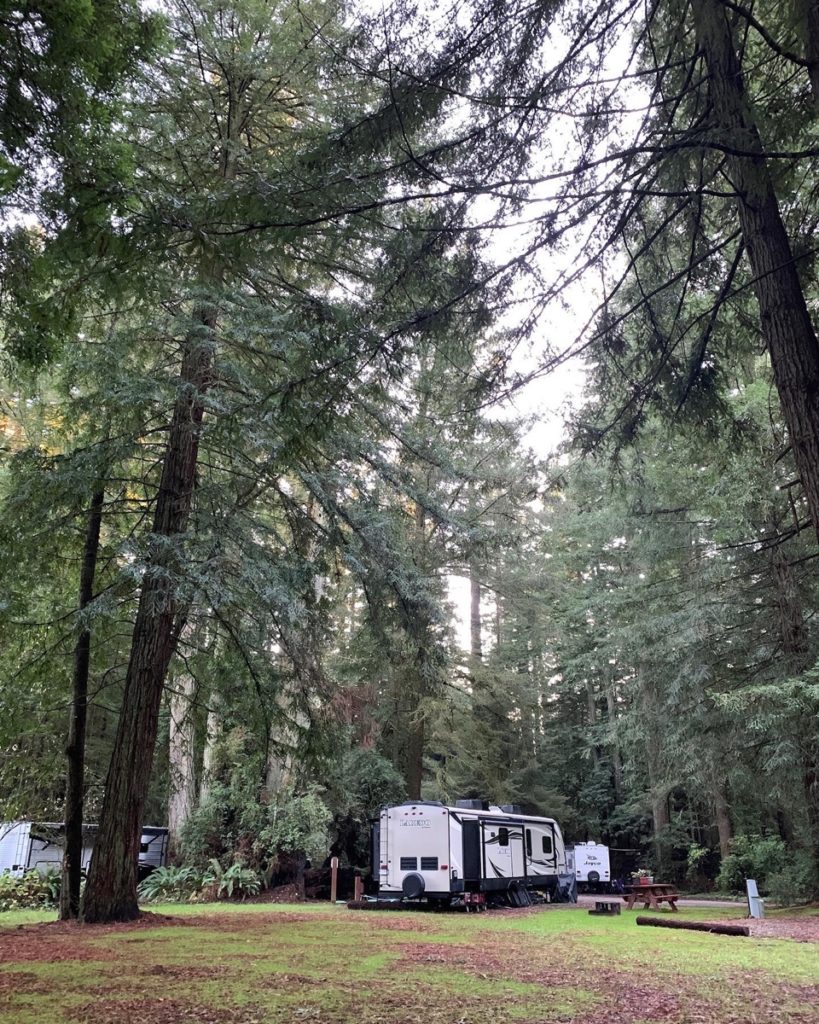 We've slowed down our travels a bit for a few reasons. The first is Covid-19. We wanted to protect ourselves and slow the spread, and avoiding crowded areas was our best option. The second is David's Mobile RV Service, which has many great clients who refer other great clients, and David has built himself an active business in the Crescent City area. We still identify more as tumbleweeds than redwoods, but if we're going to put down some tentative roots, among the redwoods is where we'd like to do it.
This campground might be the best-kept secret on the Northern California coast. Nestled in the redwoods along Highway 101, you can sleep among the trees and be part of the forest, but without giving up things like cellular service and easy access to groceries.
We decided to hunker down for the winter here, and moved to a long-term spot back in November 2021. All the sites here are spacious and surrounded by trees, and our site has a nice clearing behind it, where Tycho likes to sniff bugs and tent campers sometimes spread out.
The winter was pretty wet, with rain most days from November to February. We should've had a very wet February and most of March, but the rain slowed early. It's made great weather for outdoor activities, but we do worry about the upcoming fire season and hope to get some makeup rain in the summer.
The plan was to stay until May 1, 2022, and then spend the summer hopping between parks closer to the beach in the harbor district of Crescent City. We love Lighthouse Cove, but they have a 30-day-per-stay rule now, with 6 months maximum per calendar year, so it'd mean a lot of moving around. We were going to detour up to Eugene, Oregon for a couple weeks (for a professional exam I wouldn't end up being able to take) first, but then we caught a little bit of good luck.
Rambling Redwoods sells out well in advance of the summer months, so staying here wasn't going to be an option. But there was a cancellation and the exact spot we were in was going to be open for the summer, if we wanted to stay. We decided this has been so comfortable and quiet, we really did want to stay.
Eugene is only 250 miles away, so we went up there for a week (a new city! New food! New blog post for another time!), before coming back and settling in for the summer. They were able to arrange it so we can stay for a whole year in this same spot, so that's what we're gonna do. We'll probably take short trips to explore the area. Eugene is the furthest north we've been and we love what we've seen of Oregon so far.
Gas is currently over a buck a gallon cheaper in Oregon, which is only 20 minutes away and worth the drive. Nearby Brookings, Oregon also has more (and bigger) stores than Crescent City, so we head up there sometimes for big shopping trips. (Plus no sales tax!)
Rambling Redwoods has nice bathrooms and showers, although we've never used them. There's a playground for kids and so far most of the families with kids tend to stay close to that, so we don't get too much noise. There's also a short hiking trail that Tycho loves. It's not wheelchair accessible, but it's a nice walk on those good days. There's even a dog wash station, but Tycho hasn't let us test it out on cats yet.
Every site has a fire ring, and we've been making a lot of foil packet dinners in ours. So much so, that our grill hasn't been used in ages. We found a local house that sells firewood out front on the honor system: a giant stack for $20, and that usually lasts us a weekend. Cheaper than a movie and a much safer and more fun date night.
Cell service is good for both T-Mobile and Verizon, although some days one is much worse than the others. A series of boosters in the park seems to help tremendously, because service drops to nothing if the power goes out. We did very recently purchase our own RV cel booster for those days, but haven't tested it in a power outage yet. (Another post for another day.) T-Mobile recently upgraded all the towers in the area, too.
So that's where we've been for the last 6 months, and where we plan to be for the next year or so. We are looking forward to a cool and comfortable summer, and lots of campfires in the evenings.