We are spending the winter in the redwoods! We spent most of the summer on the coast in Crescent City, but by October, the coast gets extra windy, making the RV feel like a boat. So we moved a tiny bit inland where the wind is blocked by these magnificent trees.
We love this area so much that we decided to stay through the winter. We have never experienced a Pacific Northwest winter, so that's an adventure in itself. We were warned to expect lots of rain and to prepare for moisture control. Honestly, the rain was an understatement. We did get a dehumidifier to help with the condensation inside and it's helped a lot.
We had a white Christmas: with hail! Big huge hail that looked like snow more than a few times.
We're staying at Rambling Redwoods, which is right on US-101. It's an appropriately named park, with windy roads as you ramble along the redwoods. The sites are spacious, and the park doesn't fill up in the winter.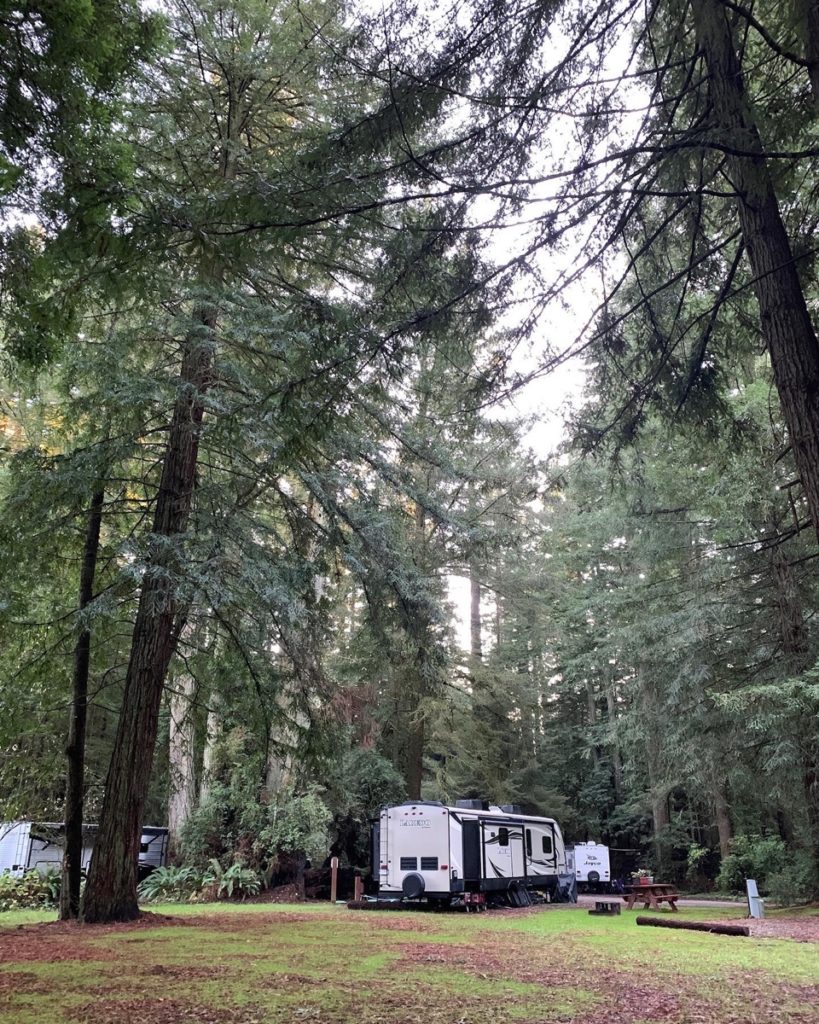 There are fire rings at each site, so we've had plenty of relaxing fires and fire-cooked meals on dry days. We learned how to bake a potato in a campfire (wrap it in foil, stick it in coals, keep it away from the flame, and turn regularly for about 45 minutes).
The laundry room is small (3 washers and 3 dryers), and the humidity is so high that it usually takes two dryer cycles to dry a load. There's a change machine in the laundry room, and a little convenience store that sells snacks, merch, and firewood. There are steps or narrow doorways to get into the store and the laundry room.
There have been so many big puddles that I haven't taken my Liberty Trike out at all, which has been a bummer. There were also bike thieves in the park so we added an extra lock and some cow bells to our bikes to deter thieves. So far so good.
The park also has a short little trail that Tycho absolutely loves. It turns out Tycho loves being in the trees, and will walk on his leash as much as we'll let him. He even walks right though puddles without noticing, on his way to sniff more big trees. Our little forest cat.